4 min read
When you're doing something complicated, it's extremely helpful to be able to look at the task at hand in different ways. If you've ever attempted to solve a riddle, you understand how this works. The same principle applies to managing a project portfolio. It's a complicated task and it needs to be broken down into simple pieces so you can truly understand what's going on. Meisterplan makes it easy to really understand project portfolio management with different views available to support every step in the process. Here are some of the views offered in Meisterplan and how you can use them for better project portfolio management.
Portfolio Designer
The Portfolio Designer is where the real portfolio work happens and acts as the command center for your project portfolio management. In one intuitive view, you can see all the crucial pieces of information needed to manage a project portfolio. In the Gantt chart, active projects are displayed in order of priority and the resources assigned to each one can be identified in the histogram below. Financial information can also be found in this view, so you know which projects are over budget. The Portfolio Designer is the perfect view for what-if planning because changes are made in real-time, which lets you immediately see the impact of change.
Board
The Board view is a Kanban-style card view that helps organizations collect, manage and develop new project initiatives. Easily drag and drop new initiatives into new phases to reflect moving down the pipeline. The decision-making body in an organization can easily evaluate new project initiatives by adding the project score to the card for each new initiative, which allows you to objectively evaluate how closely aligned the new initiative is to corporate goals. With this view, you can focus on strategy and the projects needed to get there independent from scheduling.
Roadmap
For long-term strategic planning, you need a view that gives you the big picture without unnecessary details. You can group the projects in the Roadmap by a number of different details to answer specific planning questions. By grouping the projects by Business Goal, you can determine if you actually have enough planned projects to support the achievement of each goal. By grouping the projects by Risk Level, you can see exactly how much risk your organization is taking on with the current project portfolio. The Roadmap can also be exported so you can not only share your long-term strategic planning with others, but also help people understand the how and why behind which projects are planned.
Goals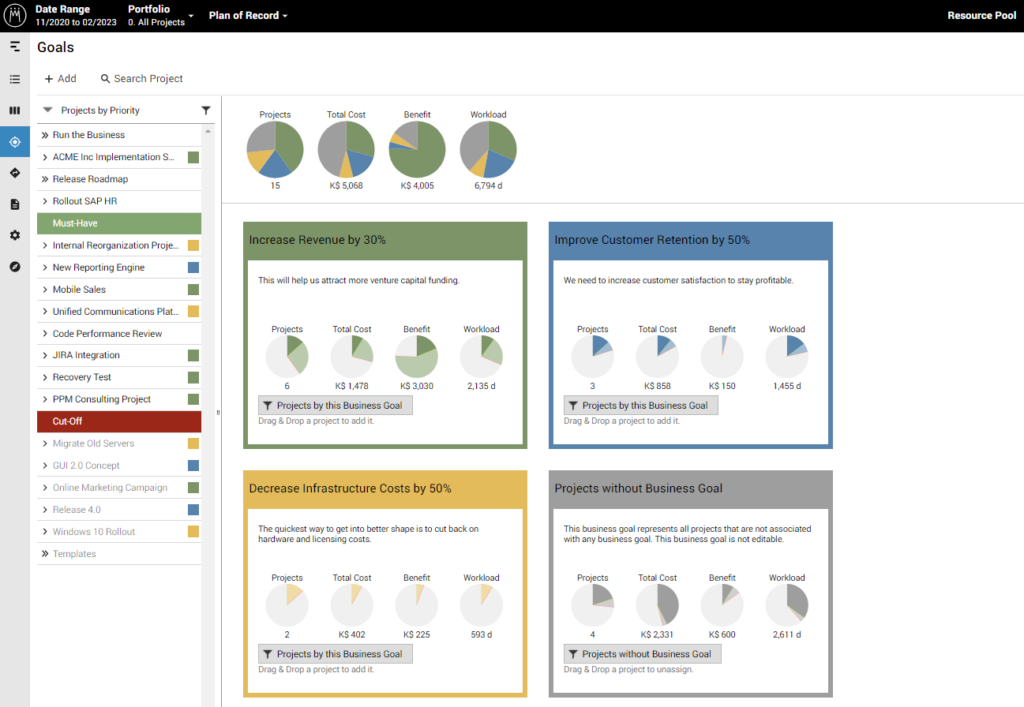 When you need to quickly evaluate how your projects are contributing to your organization's objectives, the Goals view can help. The Goals view shows an overview of how many projects contribute to each goal. It also shows the costs associated with pursuing each goal, the financial benefit when the goal is achieved and the amount of capacity assigned to projects aligned to each goal. This allows you to quickly check if your project portfolio actually supports your most important company goals.
Reports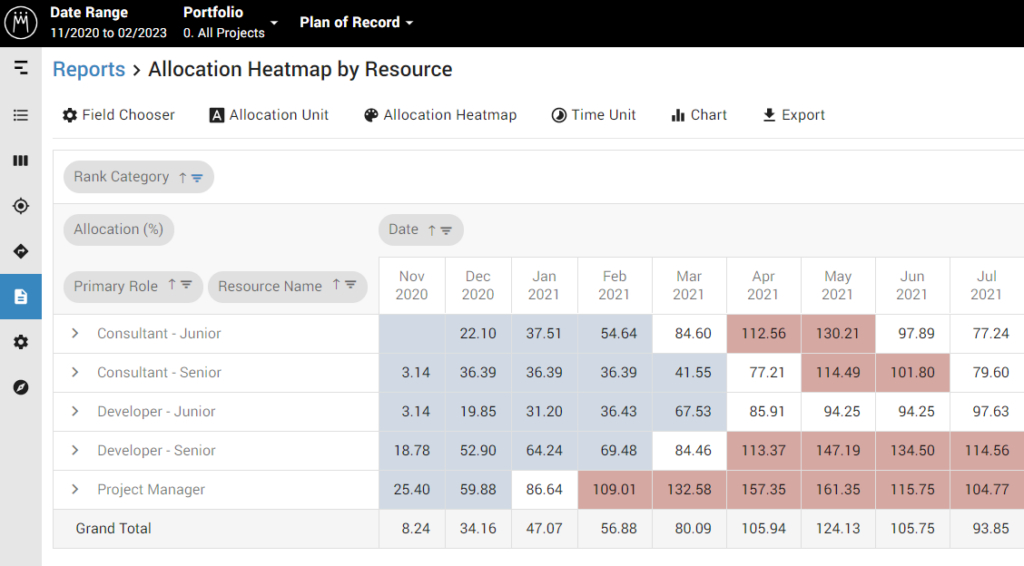 Meisterplan comes with preconfigured reports that you can further customize to visualize your data in whatever way works best for you and your organization. Our pre-configured reports can give you valuable insight into resource utilization, financials and tradeoffs when comparing two or more scenarios. In the screenshot above, you can see our Allocation Heatmap report which allows you to quickly identify which resources are over and under-allocated. To enhance your data further, you can connect Meisterplan to external tools like Power BI and Tableau.
Project List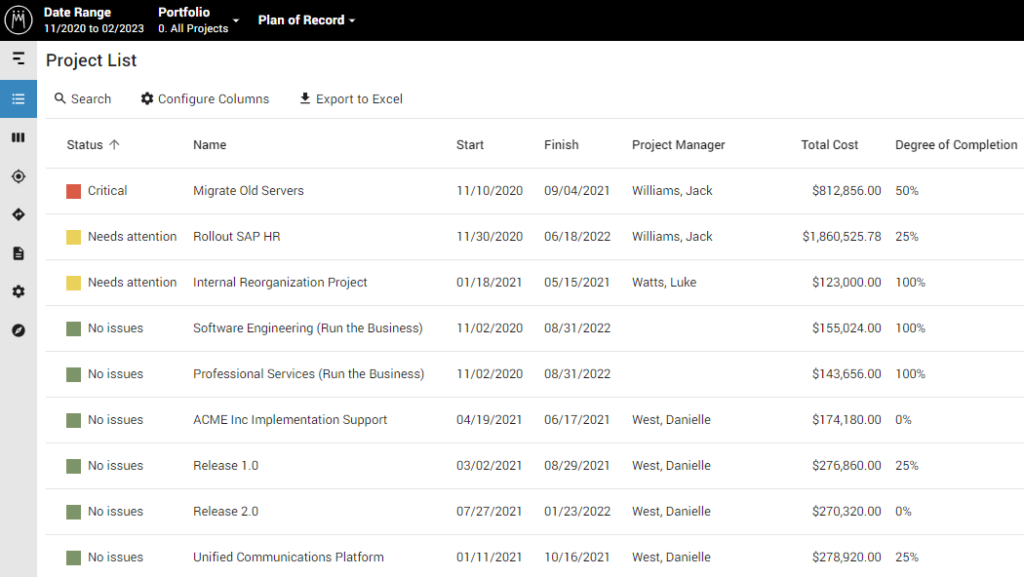 Sometimes the easiest way to digest information is in a list. The Project List view is a simple way to view your projects and important project details. You can customize the columns in the Project List view to show whatever fields your organization needs. You can then sort the Project List by any of the columns. This is helpful for seeing a list of critical projects, projects at certain Stage Gates or projects from a specific department. Sharing information from the Project List is easy. You can export a spreadsheet to Excel to circulate to colleagues.
Complete Project Portfolio Management in One Place
The ability to visualize your project portfolio in different ways is extremely helpful for successful project portfolio management. Different views allow you to answer questions much more quickly, provide transparency to your organization and make better project portfolios that help your organization grow. To see the different views in Meisterplan for yourself, watch our free on-demand product demo.