5 min read
Meisterplan's Latest Integration - Meisterplan for Jira Is Here!
Meisterplan customers can now easily connect Jira data including epics, projects and releases to Meisterplan projects. This new integration is available for free to all Meisterplan customers.
Let's start from the beginning. Here at Meisterplan, multiple agile teams work to continuously improve our cloud software and develop new features. They work iteratively, incrementally, and are self-organized. Our management team makes decisions and plans for the long term, and it is important that the projects we work on are aligned to the company strategy.
Our colleagues who use Jira and work agile speak a language that includes terms like Story Points, Epics, Velocity and Issues. While management uses terms like milestones, waterfall and deadlines that can go well into the future. And they use Meisterplan to build their corporate plans.
So we faced a communication problem between the strategic planning level and the agile implementation level. While management thinks in terms of projects and timelines, and always has to keep track of whether projects are aligned to the strategy and goals, the product owner and his agile teams deal with the backlog and its prioritization without regard for resource capacity or deadlines.
A bridge was needed to help management clearly understand what the agile teams are working on and to help the product owner prioritize the backlog. Our goal was to make Jira data understandable to management, while giving agile teams the freedom to continue to use Jira and work in the way that is best for them. Since a "Jira to Management" dictionary is not the solution, and we have development teams that can do much more than write dictionaries, we went another way…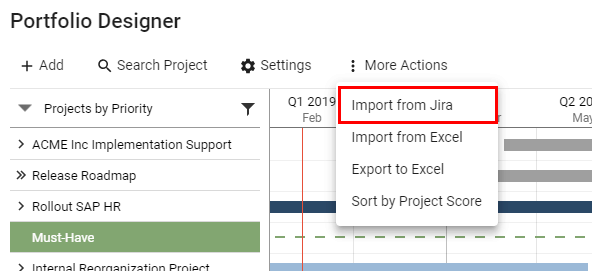 Bring the Best of Both Worlds Together
Meisterplan is strong at mapping projects with timelines to resources. Senior management and the PMO can see at a glance which projects are being worked on, if the plan is realistic and whether the right projects have priority. However, when it came to visualizing agile product development, Meisterplan users sometimes struggled to translate agile plans to traditional timelines. With the new Jira integration, we now have a solution.
With this integration, you can bring agile work managed in Jira into the same view as your traditional projects. This gives management the opportunity to design a project portfolio across all work, both agile and traditional, which provides a basis for making informed project decisions and realistic resource management plans. You also get Meisterplan's scenario planning and "what-if" capabilities for improved capacity planning for your agile projects planned in Jira. The advantage of this is obvious. Your agile teams have the freedom to continue working in Jira, and you can make long-term plans for all work, regardless of methodology. It truly is the best of both worlds.
"Meisterplan combines what belongs together - and does so clearly and efficiently. The Product Owner has a tool to put his backlog items on the timeline and present them to management on the same level as other projects. Management is then enabled by the usual visualization to make decisions."
- Stefan Schneider, Portfolio Coordinator
How Does Meisterplan for Jira Work?
Start by connecting your Jira instances to your Meisterplan system. Then, you "link" already existing projects in Meisterplan with data from Jira or create new Meisterplan projects from Jira data. What makes it special is that you can link epics or you can use JQL to summarize the contents of any Jira data into a Meisterplan project. This means that you can link Jira data in any form to Meisterplan, so it is customized to the way you use Jira to ensure you see the data that is important to you and your company.
Meisterplan pulls the data you need to manage your project portfolio from Jira and displays it clearly in a sidebar. You can allocate resources to these projects to have Meisterplan automatically calculate the expected completion date. This makes it possible to better predict roadmaps and project timelines for agile work.
If your plan changes, you can directly visualize the changes in a way that is understandable for everyone and interactively bridge the gap between agile teams and management.
With Meisterplan for Jira you have everything you need for a transparent decision-making process without losing sight of your strategic goals. With the help of Meisterplan and our Jira integration, management can make long-term plans for all teams whether they work agile or traditionally.
What's Next?
The Benefits
Want to learn more about Meisterplan for Jira? Read our Meisterplan for Jira case study for more information about benefits and what one of our customers has to say about how Meisterplan for Jira is helping their agile portfolio management.
The Technical Details
Further technical information on the new Jira integration can be found in the Help Center. We explain how to set up the integration, how JQL queries work and how to connect your agile work to Meisterplan projects with a few clicks.