2 min read
Meisterplan has become even more intelligent. The extended Meisterplan Auto-Schedule is now even smarter at automatically scheduling your projects. And with the extended histogram feature, you can now display the allocations of all selected projects. Learn about the new features in detail:
Create your Optimal Project Plan Faster and More Flexibly with Meisterplan Auto-Schedule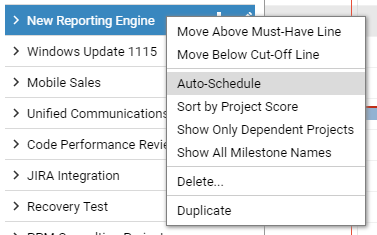 The Auto-Schedule feature, which automatically organizes the chronological order of selected projects so that they can be completed in the shortest possible time, has now been improved to take into consideration the Meisterplan ranking of projects in addition to milestone dependencies and role and resource capacities. The Auto-Schedule feature can now also move individual project segments, making it even more flexible to create the optimal plan for your projects. You can still easily undo Auto-Schedule actions by clicking the undo button. Plus, you can easily see the status of each project touched by the Auto-Schedule feature clearly displayed in the project list.
Meisterplan Auto-Schedule for a Single Project or Multiple Projects
The Suggest Best Fit feature has also been updated and renamed Auto-Schedule. It functions exactly like the multiple project Auto-Schedule feature - taking into consideration all other projects and adding the ability to move project segments individually - but it is used to find the optimal position for a single project, and can be accessed through the project context menu.
New Histogram Features Allow You to Display Exactly the Information You Need
Several features have been added to the histogram to better fit your needs. The allocation filter displays only the allocations of selected projects. Using the histogram filter options, you can now limit the displayed roles and resources to only those allocated to the displayed projects. And through the histogram view options, you can now display the capacity and allocation of roles and resources for a custom time period in the histogram hints.