Leading Companies Trust Meisterplan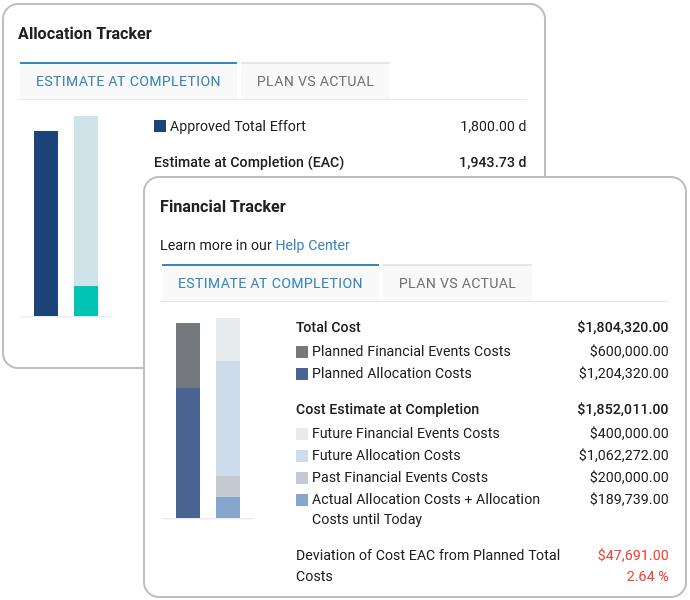 Estimate at Completion
Estimate a project's total cost or total effort using your plan and actuals.
The estimate at completion is automatically calculated and predicts the costs or effort as the project progresses
Recognize when you need to take action and allocate more resources to keep projects on track
Detect overspending and develop plan alternatives to adapt quickly
Plan vs. Actuals
Determine how accurate your plan is or whether your assumptions align with reality.
Stay on top of your most important projects
Recognize when your plan isn't realistic and adapt
Learn from plan vs. actuals to improve your future project plans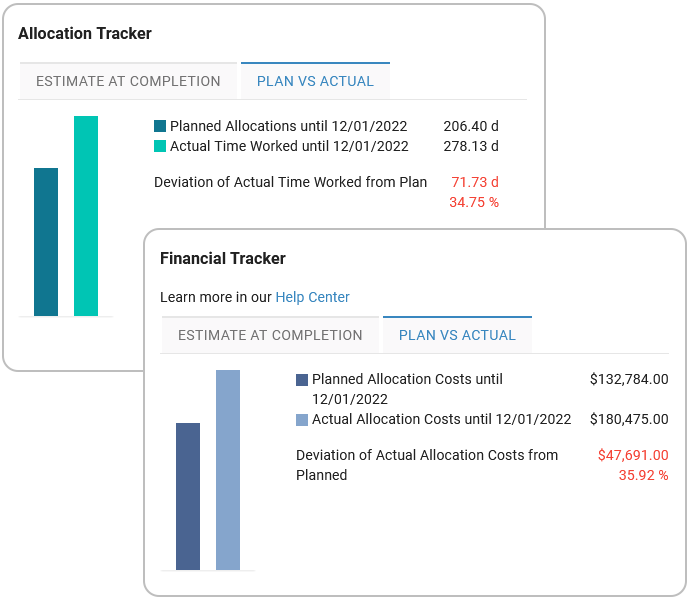 Actuals Trackers
Get a concise view with our Actuals Trackers to compare plan vs. actuals and get estimates at completion.
The Allocation Tracker compares planned effort and actual time worked plus a comparison of estimated effort at completion with the approved total effort
The Financial Tracker compares planned costs and actual costs and also determines the cost estimates at completion
The Roles and Resources Allocation and Cost trackers offer plan vs actual comparisons and estimates at completion per role or resource
Actuals in Integrated Reports
Compare and analyze planned allocations and actual time worked in different ways on the project, resource or portfolio level.
Evaluate your projects on a monthly basis to determine those that require action due to large deviations from the plan
Compare the plan vs. actuals for each project assigned to a specific department or project manager
Filter for Strategy Fit to determine if you are spending your time on your highest priority projects
I believe in the solution and see how it can benefit any company that manages multiple projects simultaneously. Which I think is just about EVERY company!
There are a lot of things that go into a project plan besides the timing and resources. We need a lot of context and it shouldn't be a surprise when a project needs attention. Our projects need to tie back to our mission and what we want to achieve. With Meisterplan, we can make informed decisions and move the organization forward.
Meisterplan is now a key element of  our portfolio planning. It helps us to make sure that our portfolio is realistic and that we create plans that really work.
Meisterplan helps us deliver our projects on time, within the agreed budget, and in top quality.
With Meisterplan, we can always see what exactly the impact of doing any project is – and it´s really simple to use.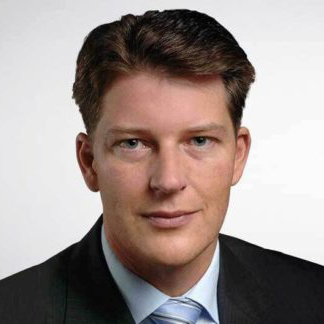 Meisterplan opened our eyes to resource bottlenecks and new portfolio solutions.
With Meisterplan, our resource utilization is more transparent. Due to the seamless integration into our existing processes, we can increase the satisfaction of both our customers and employees.